Caveat Emptore Applies When Buying A House - Buyer Beware!
When buying a house the Doctrine of "Caveat Emptor" with regard to the structure of a property applies. Caveat Emptor is Latin for "let the buyer beware." A doctrine that often places on buyers the burden to reasonably examine property before purchase and take responsibility for its condition. We act for clients purchasing and selling properties and advise of all aspects of this overarching legal principle whist still offering our fixed fee low cost conveyancing services to our clients.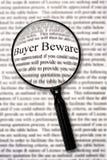 This is a warning that notifies a buyer that the property they are buying is "as is" or "subject to all defects".
The doctrine is not designed to protect sellers who make fraudulent or misleading representations. It is necessary for a purchaser of a property to carry out all reasonable checks on a property you are proposing on purchasing. In this regard what is deeded to be reasonable is that you engage a suitably qualified engineer or Architect with the necessary professional indemnity insurance to carry out a complete survey of the property to include an inspection of the Planning documentation and boundaries of the property.
We advise every one of our clients who are planning on purchasing a property that they need to get the property structure they are proposing on purchasing checked out either by a qualified engineer or architect. It is important that you should find the person with the necessary qualifications and professional indemnity insurance to give you a satisfactory report.
It should be noted that when you are obtaining a loan from your lending institution that they do have a valuation survey of the property carried out. This however is more of a valuation report as opposed to a property survey. Building Societies and Banks send out their person to establish the valuation of the property in relation to the security they are taking on. They do this to be satisfied that the property mortgage value is covered by the valuation of the property. The Building Societies and Banks surveyors are contractually bound to them and not to you the house purchasers. On the basis of existing Irish court decisions purchasers have no privy of contract with the Building Societies and Banks surveyors and therefore cannot sue them.
An architect or engineer who carries out their inspection may find issues that require further investigation such as dry rot, structural issues, electrical faults, plumbing issues etc. An architect or engineer who is properly qualified will advise that further experts be retained to advise on these areas should they become evident from an inspection. In addition to the actual structure any services relating to the house and, in particular, where there is a septic tank, should also be examined by the expert.
You should insist on getting a written report from your retainer engineer or architect.
We have over 15 years experience in dealing with property conveyancing transactions both on behalf of clients purchasing and selling properties. It is vital that the property solicitor you engage to deal with the purchase or sale of your property is highly skilled and competent. We are more than satisfied that we can hold ourselves out as highly skilled and extremely competent in dealing with all aspects of your conveyancing transaction or transactions. Not only that we also offer our property law conveyancing services at a low cost fixed rate to our client's. So if you are looking to retain a solicitors firm who offers a low cost fixed fee conveyancing service then look no further and seek a no obligations free quotation today. If you have any queries in relation to your purchasing or selling a property please do not hesitate to contact us in the office on 01 2300022 or by e-mail at This email address is being protected from spambots. You need JavaScript enabled to view it.